Towpath Trail Tree Pruning and Felling October 2022
Recently Wildwood Park performed tree pruning and tree felling along the Towpath Trail. Approximately 20 trees, were pruned or cut to lay flat to mitigate hazards to Towpath Trail users. These trees were identified as trees of concern in 2021 during an inspection as part of the park's ongoing forest management. Species included Pin Oak, Black Locust, Green Ash, Red Maple and Silver Maple.
Targeted trees contained crown die back and were declining in health, mostly from the top down. Limbs were pruned on trees where possible but many of the identified trees were declining in health beyond pruning and required to be cut down for visitor safety.
All wood and debris was left on site due to limited equipment access and to provide habitat for wildlife – perching areas for herons/egrets and sunning logs for turtles.
Dauphin County Parks and Recreation is closely monitoring the trees along this highly used trail (115,000 visitors/year). There has been a lot of tree mortality and decline, especially pin oak. Causes of the decline include old age, root zone limitations, soil compaction, bacterial leaf scorch, drought, heat stress and two-lined chestnut borer.
Tree saplings have been established and covered with tree protectors along this trail in planning for the next generation of canopy trees. To help with tree plantings and other park enhancement projects, please consider attending the monthly Volunteer Work Day to lend a hand.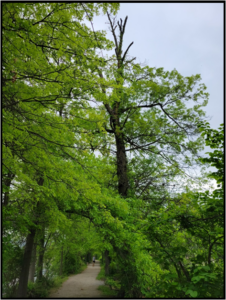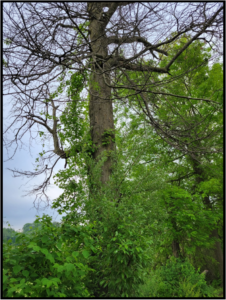 Declining Pin Oaks along the Towpath Trail photographed in spring 2022